Last year during the Earth Day run in St. Cloud I ran my very first 5K.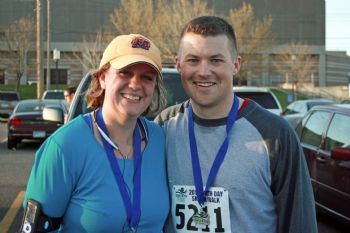 My oh my, what a difference a year makes. This year I took on the Earth Day Half Marathon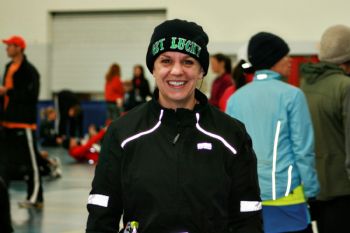 This was my second go at the half marathon distance. I didn't really have a time goal in mind, I only wanted to beat my first HM time of 2 hours 14 minutes.
I woke up to snow on the ground, 20+ mile an hour gusts with a steady 12 mile wind and 34 degrees. Good times. I had to keep telling myself that the cold wouldn't matter; once I started running I knew that I'd be fine because I'd warm up. My husband wasn't running this one, so he got to be the photographer.
When we got to the race I decided to try running with a Pacer. I spotted the 9:55/mile Pacer (shooting for a 2:10 half marathon time) and decided to see how it went.
Before I knew it, we were off! For the first quarter of a mile I had no music...somehow my headphones came unplugged so I had to monkey with that. I can't run without music! I got it squared away and didn't let it rattle me. The race was scenic; winding along the Mississippi river near the St. Cloud State University campus.
Tony took this photo at about mile 6; I was totally in the zone and didn't see or hear him call my name.
The spectators were awesome for this race--my favorite sign: "Ladies! This is easier than Labor and Delivery!" We wound through several neighborhoods, and lots of people were handing out orange slices and banana halves to the racers. I was thankful for that more than once.
The miles ticked by and I was about 30 seconds in front of my pace group giving me a comfortable cushion. I felt awesome and I just knew I was going to hit a PR. Near the 13 mile mark I saw the hubs again: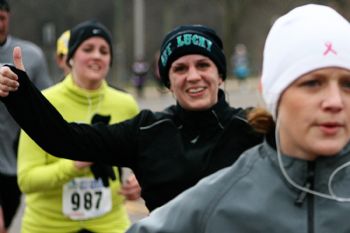 My official chip time was 2:09:02!
My splits:
Mile1-9:56
Mile 2-9:40
Mile 3-9:46
Mile 4-9:32
Mile 5-9:42
Mile 6-9:50
Mile 7-9:55
Mile 8-9:49
Mile 9-9:40
Mile 10-9:51
Mile 11-9:44
Mile 12-9:45
Mile 13-9:20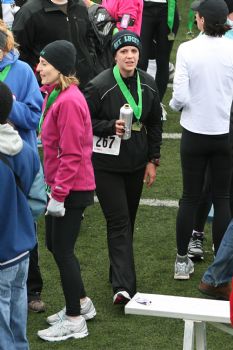 Here I am after getting my medal. Instead of disposable bottles of water we got the aluminum one that I'm holding; it has the race emblem on it. I love it!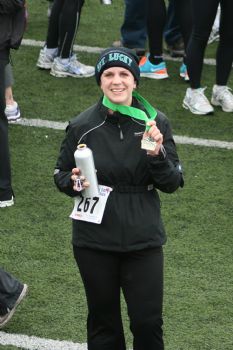 Showing off my medal--I'm still kind of out of it here! It was cold so I knew I'd want to head inside to the field house before I cooled off too much!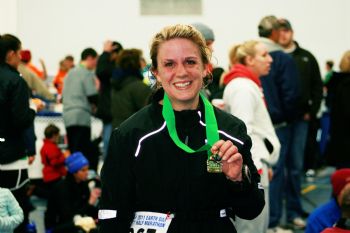 Showing off the "bling" in the field house!
I don't have a lot of time before my next half marathon, so I punched in the numbers on Runner's World's smart coach. I think I'm going to shoot for 2:05:30 for Grandma's Half in June!!!!