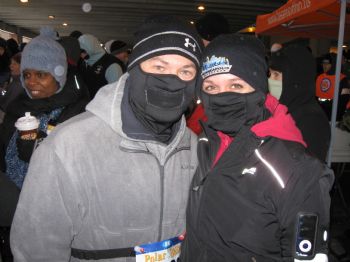 Let me start by saying that when I woke up New Year's Day and saw the forecast for the Twin Cities, I *might* have been rethinking this race. The race was at 11AM and the forecast said 9 degrees, 19 MPH wind out of the SW, and that it would feel like -12. YUCK!
I got ready in all my layers--a Nike dri-fit 1/4 zip mock neck shirt, a Columbia fleece hoodie, and my "Running Room" windbreaker to keep out that wind. I wore a pair of base-layer running tights under my Under Armour Cold Weather pants; 2 pairs of smart wool socks, a performance face mask and winter hat, fleece gloves, and my YakTrax for traction.
As we walked over to the race village I really wasn't shivering (believe it or not) the only areas that were chilly were my fingers and toes.
Needless to say with the temps that cold, we didn't arrive too early. Before we knew it, it was time to head to the starting line. There were lots of people jumping to try to warm up, and before we knew it, we were off!
It felt awesome to get the blood pumping and I was thankful for the YakTrax since we had lots of ice and snow to deal with! The first half of the race was uphill, and with the cold air that proved to be a challenge. I kept pulling my face mask down because I felt overheated, but the cold air proved to be tough to breathe in, so I'd pull the mask back up. Through the whole race I was comfortable. I was happy to reach the turn-around point because I knew that meant I'd be running downhill the whole way back. It felt great and I settled into a cruising pace. I ran without my Garmin watch so I only ran according to how I felt.
I knew when I crossed the starting line that the clock was over 2 minutes, so when I saw 30 as I crossed the finish I was pretty sure I had a PR--the hubs confirmed it for me later when we saw our results. 28:37!!!!
Here's the breakdown:
Average Pace: 9:13
Overall Place: 200 out of 972
Gender Place: 78 out of 614 women
Age Group Place: 20 out of 124 Females in the F30-34 Group
I passed 133 Runners in the overall category
I was passed by 29 runners in the overall category
I'll take it!
The added bonus for me was that I actually beat my husband. That
NEVER
happens; he's a lot faster than me. The difference is I've been running more lately, so I know not to get used to it. I will gloat for a little while though!
It was a great way to kick off 2011...I can't wait for the race season to get into full gear!
If you are in Minnesota I HIGHLY recommend
Team Ortho's Events
. I am a Monster Series Racer, which means I will be completing all 5 of their major races. Check them out! I promise you won't be disappointed